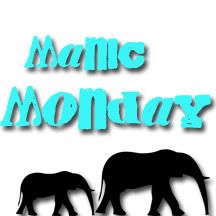 Guess who picked out Icie's jammies last night?
Dave puts his shoes on and heads out the door, I think is about done with me and this borrowed fancy camera.
You already know that Icie worked it out for Model Monday and I channelled Lady Gaga.
Icie and I got our art on.
Mac-n-Cheese, carrots and peas, and organic ketchup flavored baked potato sticks, yum!
Nap time for Miss Thing equals work time for me.
The highlights of my work session while Miss Thing napped, testing out my new sweeper and fiddling with some iron-ons. I also shredded old papers and steamed all the hardwood and tile floors, exciting right?
Icie ate almost all her dinner, drank from a GLASS, and enjoyed a shake with her Daddy.
After a dance party, Dave went back to work and Icie watched from one of our security check points while I made these:
Low calorie frozen chocolate covered bananas, and the best part even if I eat the whole tray it will only be 265 calories.
We watched a smidgen of the Handy Manny special and then it was time to prepare Miss Thing's nightcap.
She's a bit like Jeff Lewis, she places her order and you better be quick. Dave is usually the preferred bartender kinda like Jett, but every once in awhile she lets me fill in kinda of like Zoila. If you have no idea what any of that means, it's okay you just don't have the Bravo addiction I have. I'll let it slide.
She prefers to finish her nightcap in the company of Monkers and Otter, I was dismissed to get my Real Housewives of Atlanta fix.
Join in on the Manic Monday fun over at Mommy Elephants Everyday Adventures.